All restrictions on personal gatherings, organized gatherings and events, nightclubs, bars and restaurants, and exercise and fitness facilities, have been lifted and capacity limits returned to normal. B.C. health officials have lifted the mask mandate and face coverings will no longer be required in a broad range of indoor environments, but are still being recommended in some places. However, businesses and organizations can make their own rules if they wish to still require masks.
 PLEASE NOTE THIS IS NOT LEGAL ADVICE AND DOES NOT PROVIDE AN INTERPRETATION OF THE LAW.  OFFICIAL INFORMATION IS AVAILABLE ONLINE: GOVERNMENT OF BC 
Gay & Gay-friendly Bars & Clubs, Vancouver 
CLICK Posters for more INFO!  
---
Fountainhead Pub
Located centrally in Davie Village with a large outdoor street level, heated covered patio, pool table, video monitors and off sales beer and wine. This upscale pub offers a relaxed atmosphere, with diverse clientele, good food at reasonable prices, friendly attentive staff and great people watching. 1025 Davie Street. 604.687.2222  
---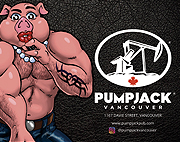 PumpJack Pub
The PumpJack is a great place to stop for a cold one while exploring Davie Village. After a major renovation and expansion, they now offer numerous levi/ leather/ fetish specialty nights, special Patio Days and a dancefloor, with multiple large screens and big sound. Sunday Keggers are legendary. 1167 Davie Street 604.685.3417 
---
The Junction
Enjoy daytime and early evening cocktails with a full pub menu while lounging on the expansive outdoor patio, then head inside for some of the hottest nightclub action in town. Weekly shows feature Vancouver's top female impersonators and popular DJs spin nightly with state-of-the-Art sound and lighting until 3 a.m. 1138 Davie Street 604.669.2013
---
Celebrities Night Club, 1022 Davie St. 
Numbers,  1042 Davie St.
1181 Bar, 1181 Davie St.