Shopping, Vancouver  
Vancouver offers world-class shopping of every kind. High-end designer shops are scattered throughout the downtown core, and many unique shopping areas are mentioned below. Noted worldwide as a safe, walk-able city, feel free to explore our many unique neighbourhoods. 
For convenience sake, highlighted below are some unique online shopping opportunities offered by local LGBT welcoming businesses, whether it's for a great read, specialty personal items, gifts for special occasions, travel, personal grooming, or unique holiday cards, to name a few.  
---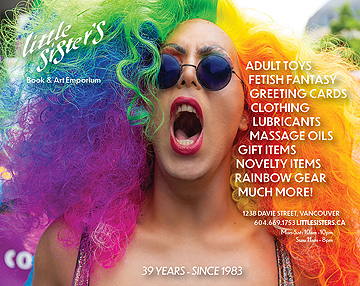 Little Sister's Book & Art Emporium
Everything from exotic to erotic can be found at Little Sister's Book & Art Emporium. A cornerstone of Vancouver's LGBTQ2+ community for decades, Little Sister's has a wide selection of LGBTQ2+ literature, as well as all the latest Pride gear. A great starting point for a visit to Davie Village. 1238 Davie Street, 604.669.1753
---
Topdrawers
Underwear and Swimwear for Men! A huge selection if fashion boxers, briefs, jocks by PUMP, Gregg, N2N, SAXX and many more underwear designers at low Canadian prices. Their stylish new downtown location showcases activewear from around the world. Visit them in person or online. 939 Hornby Street, 604.684.4861 www.topdrawers.com 
---
CLUBCARD

High quality printed materials and design services for the business, arts and non-profit communities. 
81 West Cordova Street, Vancouver. Tel: 604.801.6364
---
GENERAL INFO:
Davie Village
Everything from exotic to erotic can be found in the Village. A good starting point is Little Sister's Book Emporium, which offers a community bulletin board, gay magazines, gay literature, gay specific gift items, videos and more.  
Denman Street
Just steps away from English Bay, is the Denman strip, where you can grab a slice of pizza, a gelato, or make reservations for a romantic evening dinner. Top Drawers at the entrance to the Denman Place Mall has great gear to wear, whether on the beach or dancing the night away.
Robson Street
Trendy Robson offers blocks of name brand fashion outlets, cafés, bars, restaurants and more. Great people watching from street-side patios.
South Granville (over the bridge)
Elegant district with high fashion and more. Check out Boboli and tell Ed we sent you.
West Georgia
Pacific Centre, houses over 200 stores and services. High-end designer fashion outlets are also located in and around the Hotel Vancouver. 900 West on the magnificent lobby level is highly recommended for an elegant cocktail break or sumptuous dinner.
Granville Island
Located just over the Granville Bridge is a unique area of renovated warehouses now housing artist studios, a public market, galleries, and restaurants. For fun getting there, False Creek Ferries depart from Sunset Beach.