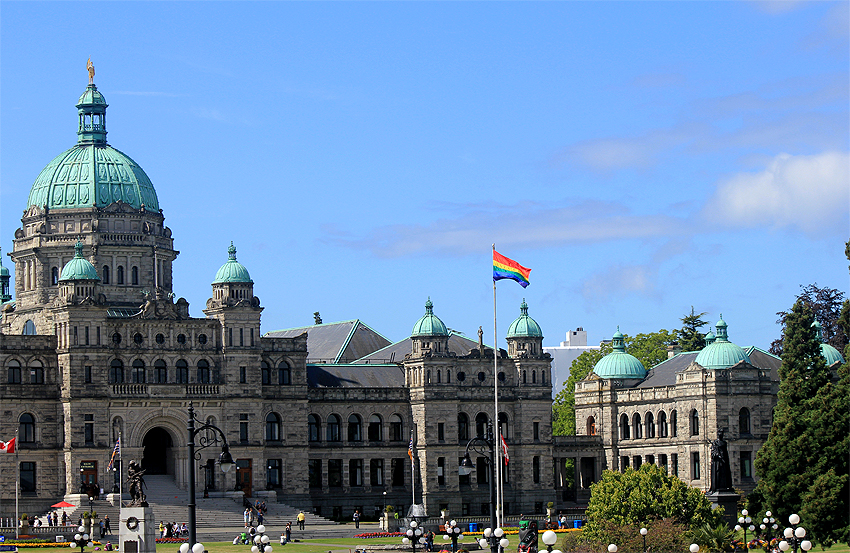 Victoria, BC, Canada  
British Columbia's capital city, Victoria, is located on the southernmost tip of spectacular Vancouver Island, just a short Helijet, floatplane, catamaran or commercial flight from BC's lower mainland region, Metro Vancouver, and Washington State. You can also reach this delightful, cosmopolitan island destination via car, coach, ferry, international flight, or even as part of an incredible whale watching adventure from downtown Vancouver.
Victoria is known for its old-world charm, decidedly British flavour, world-class hotels, decadent dining, wine, seafood, and some of the best microbreweries on the west coast. The dramatic architecture surrounding the world-famous Inner Harbour, designed by Francis Rattenbury near the turn of the 19th century, include the magnificent BC Legislative Buildings, the Crystal Garden, and the renowned Fairmont Empress Hotel.
Other highlights include; a wide range of visitor attractions, antique shopping, art galleries, great outdoor adventure travel, second highest number of restaurants per capita in North America and gardens, gardens, gardens!
The rainbow flag is flown proudly in Victoria, front and centre on the Legislature grounds for Pride. Pride festivities in Victoria now span over ten days, including a colourful parade with over 100 entries, and a large outdoor festival, with vendor booths, beer gardens, and two live performance stages. A relatively small, but active LGBTQ+ nightlife scene includes one main nightclub, an LGBTQ+ restaurant/lounge, and several mainstream clubs that host LGBTQ+ events in the downtown core. A year-round calendar of events include community events, fundraisers, theatre, drag extravaganzas, and more. Pride events kick off on June 23 with the Youth Pride Kick-Off Party, followed by the Big Gay Dog Walk, the Pride Parade and Festival on Sunday June 26, the Memorial Drag Ball Game on July 1, and Pride in the Word on July 2, as they celebrate 29 years of Pride in 2022.
Pride Week Victoria, June 23 - July 2, 2022
Pride Parade - June 26, 2022
We usually start plotting and planning early for our spot on the parade route, with over 120 entries and 40,000 spectators. We are delighted that this year the colourful event will once again take place live. Visit the Victoria Pride Society website for details: Victoria Pride Society
Pride Festival - June 26, 2022
The pinnacle event of the Victoria Pride Week Festival, the Victoria Pride Festival features a variety of spectacular performances from local LGBTQIA2S+ artists, from drag to dance to music, and more! This is a show you won't want to miss. Check the Victoria Pride Society website link or Facebook link for more details: Victoria Pride Society , Victoria Pride Facebook 
 OutlookTV Victoria Pride Coverage
Segments in order :- Victoria Pride, Vancouver Pride Run, Trixie Mattel in Vancouver, Victoria Paparazzi Events, Vancouver Pride Sports Day, Passing of Legacy 41, Vancouver Pride Parade
 OutlookTV Victoria Pride Segment
Segments in order:- Toronto Trans March, Empress Victoria LGBTQ events, Camera Obscura Queer Arts Festival, Matthew Presidente Band Live, Toronto Pride Green Spaces, Pearle Harbour in Chautauqua, Victoria Pride 25th Celebrations 
The Fairmont Empress Hotel
Inner Harbour location, in the heart of it all
721 Government Street, Victoria, BC, V8W 1W5
1.800.441.1414
www.fairmont.com/empress  
10 Acres
The Bistro, The Commons and The Kitchen are three distinct dining establishments with the same passion to provide Victoria's finest dining experience while promoting organic produce and ethically raised, hormone free livestock from their own 10 Acres Farm. The farm is located on the Saanich Peninsula. https://10acres.ca 
Paparazzi Nightclub
The Paparazzi Nightclub is the hottest LGBTQ+ community nightclub in Victoria, offering the latest dance music, sexy people to look at and fun shows. This unique, upscale venue offers dramatic design, state-of-the-art audiovisual capabilities and some of the best DJs in the city, making it the perfect environment for Private Parties, Corporate Events and fundraisers.642 Johnson Street, Victoria, BC,250.385.6533 www.paparazzinightclub.com   
Friends of Dorothy Lounge - there is no place like Dorothy's
Get ready to join the Friends of Dorothy at Victoria's newest LGBT2Q+ cocktail lounge! Louis XIV meets punk chic at this modern Victoria gay bar, where you can share gourmet plates and sip craft cocktails. A dazzling world of colour awaits you over the rainbow. https://www.fodlounge.com/victoria 
---